Scientist, Journalist, Glass-blower, and Intellectual Magpie
Glass-blowing to becoming the voice of "The Intelligence"
In December 2019, when Adrian, Shikher, and I started Things Have Changed, we aspired to be as relevant as a podcast called "The Intelligence" by The Economist. We were all huge fans of the show and had declared that one day, we would get
Jason Palmer, the voice that we listen to every morning, on Things Have Changed.

Well… We've done it.

As you can imagine, we're freaking out.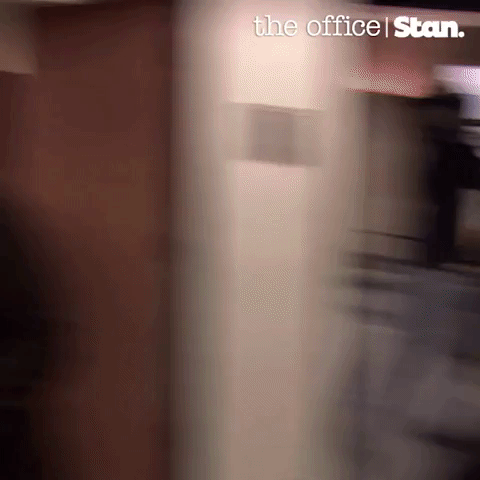 On to our incredible guest…
Post-doctoral Soul Searching: Science Journalism
Jason started his journey in the field of academia, as a physicist at the Lawrence Livermore labs. Initially, he thought his life was going to be spent in the lab, proving/disproving hypothesis. However, like any other PhD candidate, Jason had second-guessed his purpose and started thinking about where he would fit in. One of the things he had landed on was "Science Journalism".
"I got into science to try and wanting to know how the whole world work, and ended up just knowing the narrowest, but deepest slice of the world. Science journalism was a way to take that analytical skill but think about a million things instead of one deep thing."
On the tail-end of the PhD, Jason spent his weekends learning as much as he could about writing and journalism. It started as an entry to a contest, to 'Materials Today' magazine. He didn't win. But Jason took that as a learning experience. He reached out to the editor who had rejected his entry and asked for guidance. They built this relationship and Jason ended up free-lance writing for over 5 years!
"My story, like many others, is littered with people who took the time with me when they didn't have to"
Undoing the Scientific Approach
In the beginning, we were under the impression that the scientific training was the one true advantage for Jason in Journalism. Although he admits that the scientific training was helpful, he shares with us that he actually had to 'undo' the scientific approach to be able to connect with the audience. Jason started writing more and for different audiences in the science field. Especially since there was an opportunity at one of the most iconic news channels in the world, 'the' BBC (British Broadcast Corporation).
The BBC is a government funded entity (WITH NO ADS.. WHAT?) and Jason was supposed to only do a quick stint for 4 weeks but ended up staying for 4 years as a Science and Technology reporter.

Speaking "Econom-ese"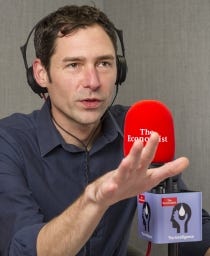 Since Jason's already had an internship at The Economist for science reporting, he was an obvious choice for a Science Correspondent. The stint established Jason with the media giant and soon he became a co-editor of "Economist Espresso".
Anyway, In 2019, as The Economist wanted to take a more serious step towards podcasting (They actually their first podcast in 2006). They were serious about audio and this new podcast was supposed to display that. The team was lead by Tom Standage, Deputy Editor and lead for digital strategy. In a medium article, Tom describes this effort as a way for '"The Economist to come to life in audio everyday".
Check out this awesome medium article about how "The Intelligence" started"
With a voice that could seamlessly fit in a Ford Bronco voiceover, Jason was made the Host of the Intelligence!

During our conversation, he actually had us saying "Well that's a radio voice!"
But admittedly, his voice isn't the reason we love "The Intelligence", it's because we identify with the phenomenal content. The podcast is a great way to keep in-tune with the world around you. From stories about the famine happening in Yemen, to the shift in American Politics, the show brings together a really global view of news.
At Things Have Changed, we are a group of immigrants that have benefitted from the truly diverse collection of people in the United States. Jed is from the Philippines, Shikher is from India, and Adrian's family is from Poland. When we have conversations, we are bringing our different perspectives to the table, and we find that absolutely vital for personal growth.
"The Intelligence" is now one of the most popular news podcasts in the world!
To be quite frank, we were surprised at how humble our distinguished guest was. Despite having done some serious journalism and broadcast media, he always credited the teams and the people that have helped him make it to where he is.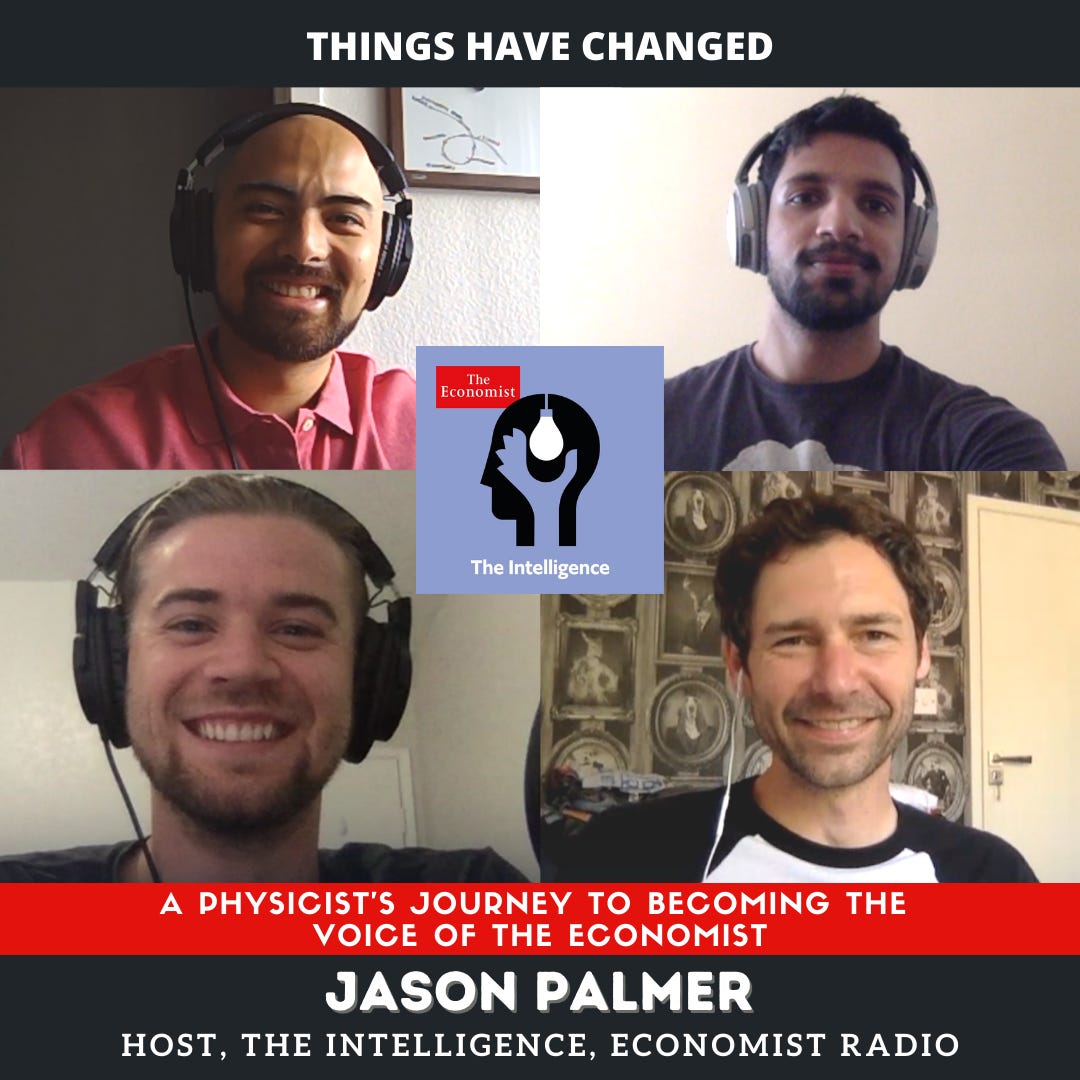 Learn about how Jason satiates his desire for learning and what kind of cocktail he'll make for us when we visit London someday!